Award-Winning Music Video Merry Crocmas Set to Launch 1st November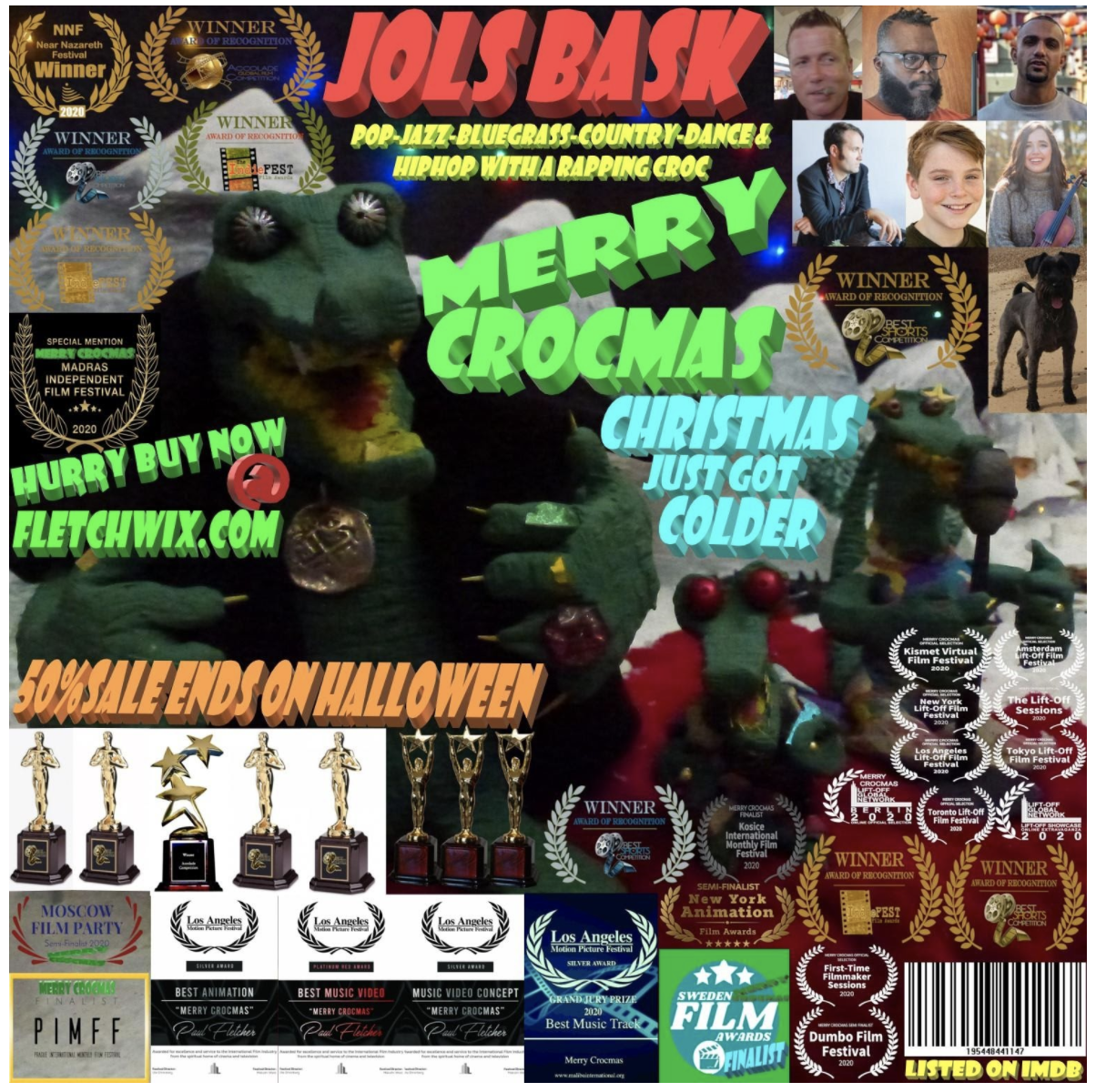 Jols Bask is bringing Christmas early this year with the wildest, funkiest, and craziest of musical rides in form of "Merry Crocmas", an animated music video so wacky, it will blow anyone's mind. Considering the public's positive response to the trailer for Merry Crocmas, kids and listeners of other ages are guaranteed to "Go Troppo", a term meaning to go mad or crazy derived from the baking tropics of Northern Australia.
The Multi-Award-Winning Music Video has been recognized as a true gem of originality and creativity by film festivals worldwide. Considering the ugly emergence of the coronavirus, this joyful romp could not have come at a better time to help the world heal from the pandemic. Scheduled for release on the 1st of November 2020, it is targeted at kids and parents looking to adopt a brand-new song for the upcoming Christmas season. But who says just kids? The music video will make even adults go bonkers with its chaotic combo of Pop, Jazz, Bluegrass/ Country Dance, and Hip Hop with a rapping croc.
Viewers have shown an early likeness for Piece of Eight, a big scary croc rapping about how immortal kleptomaniac crocs appear to those who are naughty at Christmas to make them good. Merry Crocmas is more than just a fun show, it is also educative with the origins of good old Santa and winter time lore's interwoven both lyrically and visually. The Croc Rap has been labelled "addictive and catchy" by many. Several children, families and friends are considering greeting one another this year with a "MERRY CROCMAS" instead.
The animated short is the bright idea of multi-talented entertainer Paul Fletcher, Fletcher, a mechanical engineer and dual citizen of the UK and Australia, is popular for his creativity, with Merry Crocmas it appears that Fletcher has struck gold. Out of 32 global official nominations the animated music video has swept up awards in the best music video, best music track, animation and a variety of other categories in the US, Israel, India, Sweden, Slovakia, Czechoslovakia and Russia.
Winning Accolade, Best Shorts and the IndieFEST competitions in multiple award categories puts the icing on the cake, and places Merry Crocmas on par with other high-profile winners of the same awards like the Oscar-winning production of "The Lady in Number Six" by Malcolm Clarke, Radical Grace Executive produced by Susan Sarandon and Liam Neeson. When quizzed about the significance of Merry Crocmas winning the award, Rick Prickett, chairman of Accolade, Best Shorts & IndieFEST Competitions said,
"These are not easy awards to win, our goal is to help winners achieve the recognition they deserve, help set the standard for craft and creativity. Entries are received from around the world from powerhouse companies to remarkable new talent. The judges were pleased with the exceptional high quality of entries."
Merry Crocmas promises to make every fan "Go Troppo" this season and for those who can't wait to catch a glimpse, a trailer has been uploaded to his social media accounts or right on Paul's website www.fletchwix.com where fans can purchase the music video or MP3 in the 50% off sale which runs till midnight on Halloween, alternatively, the song will be released on the 1st of November across all online music stores.
Merry Crocmas is a fun frolic all the way and Fletcher's vision lays the perfect explanation for this, "I love to entertain, the greatest thing in life anyone can achieve is eternal laughter, I hope my folly will endure you to this."
Media Contact
Company Name: Paul Fletcher
Contact Person: Media Relations
Email: Send Email
City: Felixstowe
State: Suffolk
Country: United Kingdom
Website: https://www.fletchwix.com/