Feel The Terror That Tori Was Enduring In Order To Save Herself
This Joint Creation from Wall Street Journal, USA Today, and Amazon Best-Selling Authors Named Her Silent Shadow: A Gripping Psychological Suspense Collection, Written by 13 Different Renowned Authors, Contains 13 Thrilling Stories to Engage the Attention of Readers and is Now Available to Preorder on All Leading E-book Platforms for Just $0.99.
Dansville, NY, USA – 12 February, 2021 – The most-awaited terrifying eBook bundle named Her Silent Shadow: A Chilling Psychological Suspense Collection is now available to preorder on all leading digital book publication platforms for just $0.99. This offer is open for a very short period of time, so grab the opportunity to preorder while still possible.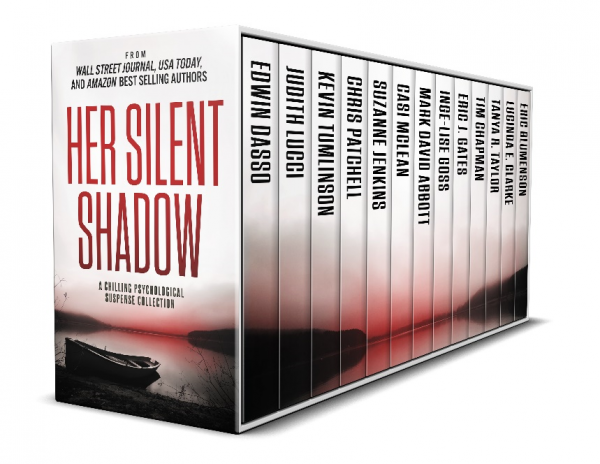 [Joint Creation of Wall Street Journal USA & Amazon Best-selling Authors-13 Books]
With 13 different stories full of suspense, thrills, frightening scenes, and mysteries involving obsession, abduction, and murder, this collection is one of a kind. The names of these 13 books are Edge of Reality – Edwin Dasso;Her Biloxi Brute – Judith Lucci; The Man Below – Kevin Tumlinson; Find Her – Chris Patchell; Christmas in Greektown – Suzanne Jenkins; Fatal Obsession – Casi McLean; The Devil Inside – Mark David Abbott; Silent Walker – Inge-Lise Goss; ONE – Eric J. Gates; With Best Intentions – Tim Chapman; Headstone – Tanya R. Taylor; Play Rehearsal – Lucinda E. Clarke; and The Beauty of Being Anonymous – Eric Blumensen.
Each story included in the eBook collection centers around a character who goes through several horrifying situations in a struggle for personal safety. All the characters in this electrifying digital book collection are mysterious and will take the reader on a gripping journey of darkness. Each book is fraught with twists and turns to capture the reader with thrilling stories. It's a complete and disturbing world of characters that is well executed and narrated by each of the suspense writers.
Her Silent Shadow: A Chilling Psychological Suspense Collection of Books is published by Rukia Publishing US, which is extremely proud and happy with the success of its most recent publication, Dead Silent: A Box Set Collection (18 Deadly Crime Thrillers). Dead Silent placed as the sixty-fourth best-selling book on the USA Today Bestselling Book List for the week ending January 24th, 2021. The company is now anticipating the success of its new thrilling book that will officially be released on February 23rd, 2021 on all the major retail bookstores and Google Books. This book is a joint creation of Wall Street Journal, USA Today, and Amazon Best-selling Authors. As a preorder, it is available on Kindle, Apple, Nook, Kobo, Indigo, Thalia, Angus & Robertson, Bol.de, and Mondadori. All these are reputable eBook stores where numerous books are available for sale in the digital format.
According to the officials, the preorder price of Her Silent Shadow: A Gripping Psychological Suspense Collection will be raised from $0.99 to $9.99 on March 1st, 2021. So this limited-time offer lasts only until February 28th, 2021.
One of the amazing things about this preorder digital book sale is that 50% of preorder profits will be donated to Operation Renewed Hope Foundation, which is a charitable organization efficient at providing housing and other financial support to homeless veterans.
So, don't miss the chance to preorder this thrilling, suspenseful, and chilling ride of darkness.
For more information and to preorder this frightening collection, please view the following:
Books2read, Amazon, Barnesandnoble, Apple
Media Contact
Company Name: Rukia Publishing US
Contact Person: Media Relations
Email: Send Email
City: Dansville
State: NY
Country: United States
Website: https://books2read.com/HerSilentShadow