Plosive Monster Media (the parent company of Real Talk Podcasting), Raises $1400 For Online Accessibility Organization Userway.org In One Day On Club House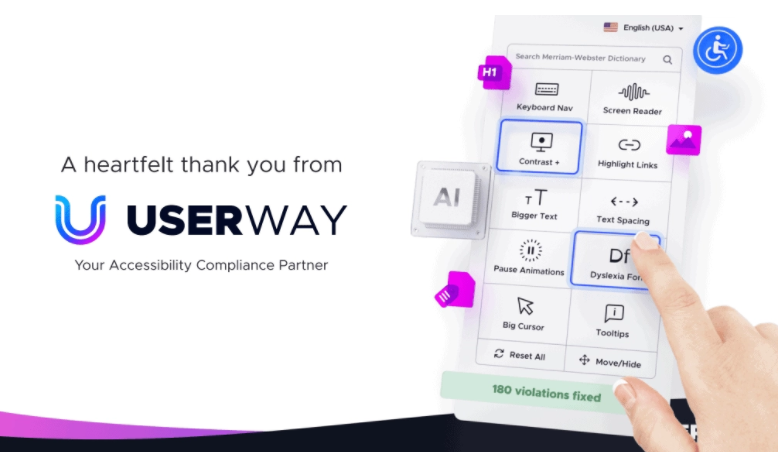 Plosive Monster Media (the parent company of Real Talk Podcasting), in conjunction with members and fans of the Real Talk Podcasting Clubhouse club, have raised $1400 for donation to UserWay.org
The founders of Real Talk Podcasting Roman Prokopchuk, Tanner Campbell, and Pedro Maciel have made thousands of new friends since joining Clubhouse in December of 2020 and many have been extremely concerned about accessibility within the podcasting space.
When monetization was turned on for podcasters a week or two ago on Club House, Real Talk Podcasting knew, immediately, that they wanted to do something to raise money for a cause and they very quickly set their sights on something related to accessibility. They started looking for non-profits within the online accessibility space but could find none with a satisfactory Charity Navigator score. Then they came across a for-profit organization called UserWay.
UserWay makes an accessibility widget that transforms your website, through the installation of a plugin or copy/pasting of a small code snippet, from a website with no special focus on accessibility, to a website with tools and features that those in need of such features can use to more easily navigate your website.
They installed it and were impressed with the features it offered.
UserWay makes a version of this tool free, and their organization, though a for-profit, is setup to take donations. They use these donations to help small businesses afford the process of becoming ADA compliant (an expensive, technically challenging, and arduous task that most small businesses cannot afford).
In a world full of less than accessible websites, anything Real Talk Podcasting can do to make navigating the online landscape easier for those with disabilities which make that navigation more difficult, is a good thing to do.
It is in that spirit that Plosive Monster Media (the parent company of Real Talk Podcasting), in conjunction with members and fans of the Real Talk Podcasting Clubhouse club, have raised $1400 for donation to UserWay.org.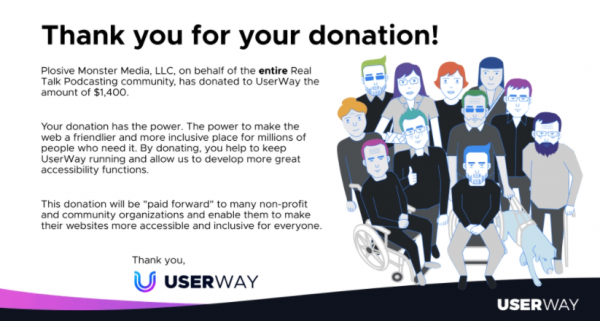 Real Talk Podcasting hopes to raise funds on a monthly basis in their Club House Club to go to a new charity every month.
Media Contact
Company Name: Real Talk Podcasting
Contact Person: Roman Prokopchuk
Email: Send Email
Phone: 7327186346
Country: United States
Website: https://realtalkpodcasting.com/