Gene Therapy – Insights Into the Marketed and Emerging Pipeline Drugs, Clinical Trials, Latest FDA, EMA, and PMDA Approvals, Competitive Landscape, and Key Companies

As per DelveInsight's assessment, about 250+ key pharma and biotech companies are working on 300+ pipeline drugs in the Gene therapy Competitive landscape based on different Routes of Administration (RoA), Mechanism of Action (MoA), and molecule types. Several of the therapies are in the advanced stages of clinical development and are expected to launch in the coming years.
"Gene Therapy Pipeline Insight, 2023" report by DelveInsight outlines a comprehensive assessment of the present clinical/non-clinical development activities and growth prospects across the Gene Therapy Market.
The Gene Therapy Pipeline report embraces in-depth commercial and clinical assessment of the pipeline products from the pre-clinical developmental phase to the marketed phase. The report also covers a detailed description of the drug, including the mechanism of action of the drug, clinical studies, NDA approvals (if any), and product development activities comprising the technology, collaborations, mergers, acquisition, funding, designations, and other product-related details.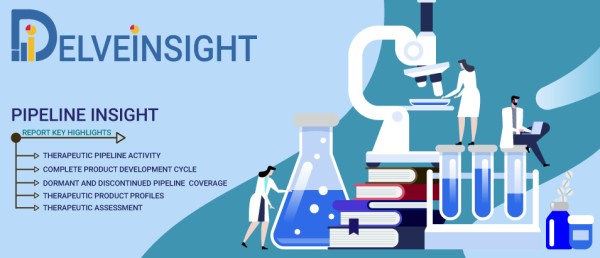 Gene Therapy Pipeline Analysis
The report provides insights into:
The report provides detailed insights into emerging therapies in the Gene Therapy Market and the aggregate therapies developed by major pharma companies.

It accesses the different Gene Therapy therapeutic candidates segmented into early-stage, mid-stage, and late-stage of development.

It outlines the key companies involved in targeted therapeutics development with respective active and inactive (dormant or discontinued) projects.

The report evaluates the drugs that are under development based on the stage of development, route of administration, target receptor, monotherapy or combination therapy, a different mechanism of action, and molecular type.

It navigates the major collaborations (company-company collaborations and company-academia collaborations), licensing agreements, financing details, data presentation by the pharma giants, and regulatory approval in the Gene Therapy Market.
The report is built using data and information traced from the researcher's proprietary databases, company/university websites, clinical trial registries, conferences, SEC filings, investor presentations, and featured press releases from company/university websites and industry-specific third-party sources, etc.
Analysis of Emerging Gene Therapy by Phases
The report covers the emerging products under different phases of clinical development like –
Late-stage products (Phase III)

Mid-stage products (Phase II)

Early-stage product (Phase I)

Pre-clinical and Discovery stage candidates

Discontinued & Inactive candidates
Mechanism of Action of the Emerging Pipeline Therapies
Survival of motor neuron 1 protein replacement

Dystrophin replacement

Gene transference

Complement factor I replacement

Fanconi anaemia complementation group A protein expression stimulant

Hepatocyte growth factor expression stimulants

Eye protein replacement

Vascular endothelial growth factor A inhibitors

STAT3 transcription factor inhibitors

Phenylalanine ammonia-lyase replacement
Major Clinical, Commercial, and Regulatory Developments in the Gene Therapy Market:
In August 2022, The US Food and Drug Administration approved Zynteglo (betibeglogene autotemcel), the first cell-based gene therapy for the treatment of adult and pediatric patients with beta-thalassemia who require regular red blood cell transfusions.

In March 2022, REGENXBIO announced that the US Food and Drug Administration (FDA) granted Rare Pediatric Disease Designation for RGX-202, which may entitle REGENXBIO to receive a priority review voucher which can be redeemed to obtain priority review for any subsequent marketing application and may be sold or transferred should a new BLA for RGX-202 be approved.
Learn How the Ongoing Clinical & Commercial Activities will Affect the Gene Therapy Therapeutic Segment @
https://www.delveinsight.com/sample-request/gene-therapy-competitive-landscape
Key Companies in the Gene Therapy Market Include:
Alcyone Therapeutics, Amicus Therapeutics, Asklepios BioPharmaceutical, bluebird bio, BridgeBio, CSL Behring, Fibrocell Technologies, Freeline Therapeutics, Gensight Biologic, Gyroscope Therapeutics, Helixmith, HELIXMITH Co., Ltd., Homology Medicines, Johnson & Johnson, Lexeo Therapeutics, LYSOGENE, Nanoscope Therapeutics, Novartis, Pfizer, REGENXBIO, Sangamo Therapeutics, Sarepta Therapeutics, Solid Biosciences Inc., Spark Therapeutics, Taysha Gene Therapies, Ultragenyx Pharmaceutical, uniQure, Vivet Therapeutics, Xalud Therapeutics, and many others.
Market and Emerging Gene Therapy Products Covered in the Report Include:
bluebird bio: Zynteglo

Engensis (VM202): Helixmith

Etranacogene dezaparvovec: CSL Behring/uniQure

FLT190: Freeline Therapeutics

Fordadistrogene movaparvovec: Pfizer

GT005: Gyroscope Therapeutics

LX2006: Lexeo Therapeutics

LYS-SAF302: LYSOGENE

RGX-121: REGENXBIO

SPK 3006: Spark Therapeutics
And Many More
Request the Sample PDF to Get a Better Understanding of the Emerging Drugs and Key Companies @
https://www.delveinsight.com/sample-request/gene-therapy-competitive-landscape
Table of Content (TOC)
1. Report Introduction
2. Executive Summary
3. Gene Therapy Current Treatment Patterns
4. Gene Therapy – DelveInsight's Analytical Perspective
5. Therapeutic Assessment
6. Gene Therapy Late Stage Products (Phase-III)
7. Gene Therapy Mid-Stage Products (Phase-II)
8. Gene Therapy Early Stage Products (Phase-I)
9. Pre-clinical Products and Discovery Stage Products
10. Inactive Products
11. Dormant Products
12. Gene Therapy Discontinued Products
13. Gene Therapy Product Profiles
14. Key Companies in the Gene Therapy Market
15. Key Products in the Gene Therapy Therapeutics Segment
16. Dormant and Discontinued Products
17. Gene Therapy Unmet Needs
18. Gene Therapy Future Perspectives
19. Gene Therapy Analyst Review
20. Appendix
21. Report Methodology
*The Table of Contents (TOC) is not exhaustive; the final content may vary. Refer to the sample report for the complete table of contents.
Download Sample PDF to Explore the Key Offerings of the Report @
https://www.delveinsight.com/sample-request/gene-therapy-competitive-landscape
Take control of your healthcare portfolio with DelveInsight's comprehensive consulting services. Get in touch and discover how we can help you manage your healthcare portfolio today @ Healthcare Portfolio Management Services
About DelveInsight
DelveInsight is a leading Business Consultant and Market Research Firm focused exclusively on life sciences. It supports pharma companies by providing comprehensive end-to-end solutions to improve their performance.
Media Contact
Company Name: DelveInsight Business Research LLP
Contact Person: Shruti Thakur
Email: Send Email
Phone: 09650213330
Address:304 S. Jones Blvd #2432
City: Las Vegas
State: NV
Country: United States
Website: https://www.delveinsight.com/