7 Reasons to Choose Ambong Pool Villas When Visiting Langkawi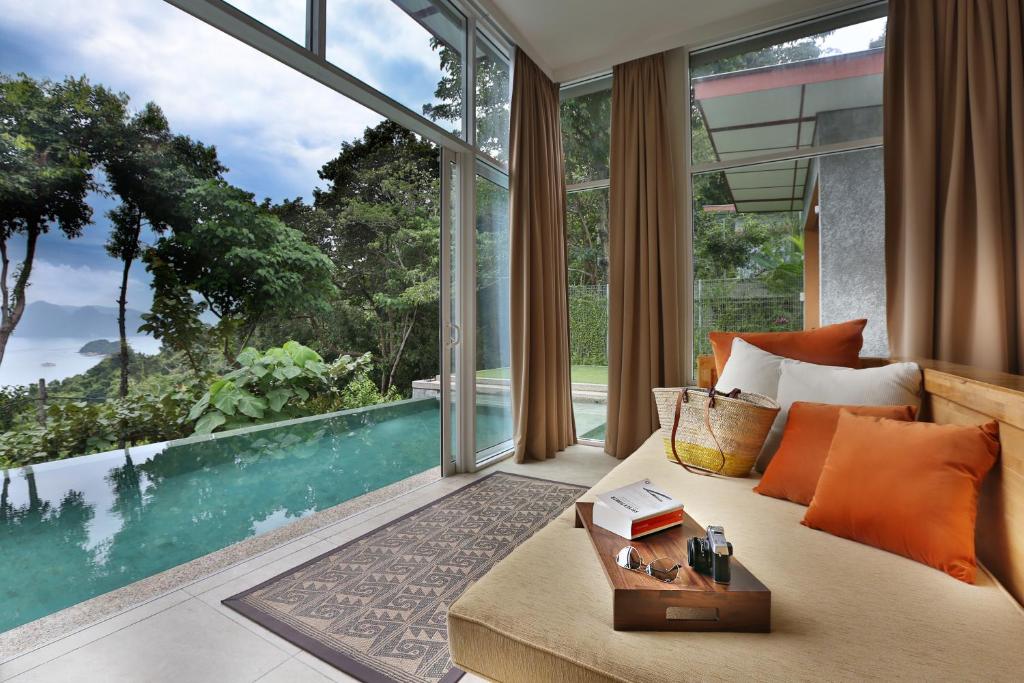 The ultimate getaway for those looking for luxurious amenities, unparalleled privacy, and stunning views in Langkawi, Malaysia
Langkawi, Malaysia – Ambong Pool Villas offer an ultimate getaway for those looking for luxurious amenities, unparalleled privacy, and stunning views in Langkawi. The boutique resort, situated within walking distance of Pantai Tengah, is the best value in its category among luxury pool villas and resorts in Langkawi. Here are seven reasons why Ambong Pool Villas should be at the top of your list.
Spacious Villas with Large Pools
Each villa at Ambong Pool Villas offers an abundance of space and comfort, with the 1-bedroom villas spanning an impressive 186 square meters. The 12-meter private pools provide ample space for guests to indulge in leisurely laps while relaxing and exercising. The villas are thoughtfully designed to provide a seamless indoor-outdoor living experience, harnessing the power of biophilic design, with open-air living areas that perfectly integrate with nature.
Variety of Experiences
Ambong Pool Villas provides guests with a range of exceptional experiences that allow them to connect with the natural beauty and cultural richness of Langkawi. Guests can visit the organic farm and learn about the farm-to-table philosophy, charter a private yacht and embark on an unforgettable journey of exploration of some of the breathtaking islands around Langkawi, indulge in rejuvenating massage treatments at the luxurious on-site spa, or find peace and tranquility in the lush surroundings of the rainforest while practicing yoga.
Best Restaurant in Langkawi
Rimba, the restaurant at Ambong Pool Villas, is consistently ranked among the top 5 restaurants in Langkawi on TripAdvisor. Rimba celebrates the rich flavors of local and international cuisine, prioritizes locally sourced ingredients, and takes inspiration from traditional heritage recipes, infusing them with modern techniques and exciting twists that are sure to tantalize your taste buds.
Rimba Sky
Rimba Sky is a rooftop restaurant that offers guests one of the most awe-inspiring vistas in Langkawi, showcasing a stunning sunset view. The ambiance of Rimba Sky elevates guests' senses and provides a memorable dining experience.
Sunset View and Sunrise View Pool Villas
Ambong Pool Villas has two types of villas, Sunset View Villas and Sunrise View Villas, both offering sea views. Sunset View Villas provide views of the Andaman Sea with Pulau Tepur in the foreground, while Sunrise View Villas offer views of Teluk Baru and the Kuah Harbour.
Secluded Privacy and Breathtaking Views
All villas offer unparalleled seclusion and privacy, allowing guests to immerse themselves in the stunning panoramic views of the Andaman Sea. Villas are strategically designed and built on a steep slope atop a hill, ensuring that guests have unobstructed views of the open sea and the enchanting islands of Langkawi.
Location
Ambong Pool Villas offers an unparalleled opportunity to experience Langkawi's vibrant culture and bustling nightlife. The villas are within walking distance from tourist shops, bars, and some of Langkawi's most distinguished restaurants located on Pantai Tengah. Furthermore, Ambong Pool Villas is ideally situated, just minutes away from the island hopping jetty and the Resorts World Marina.
In conclusion, Ambong Pool Villas is the perfect choice for those looking for the ultimate escape in Langkawi. With spacious villas, large pools, breathtaking views, and luxurious amenities, guests will have everything they need for a truly relaxing and unforgettable experience. Book your stay now and experience the best that Langkawi has to offer.
Media Contact
Company Name: Daniel Diosi & Partners
Contact Person: Julia Marquez
Email: Send Email
Country: Malaysia
Website: www.ambong-ambong.com