Yeshiva University Opens First-of-its-Kind Security Operations Center to Train the Next Generation of Cybersecurity Experts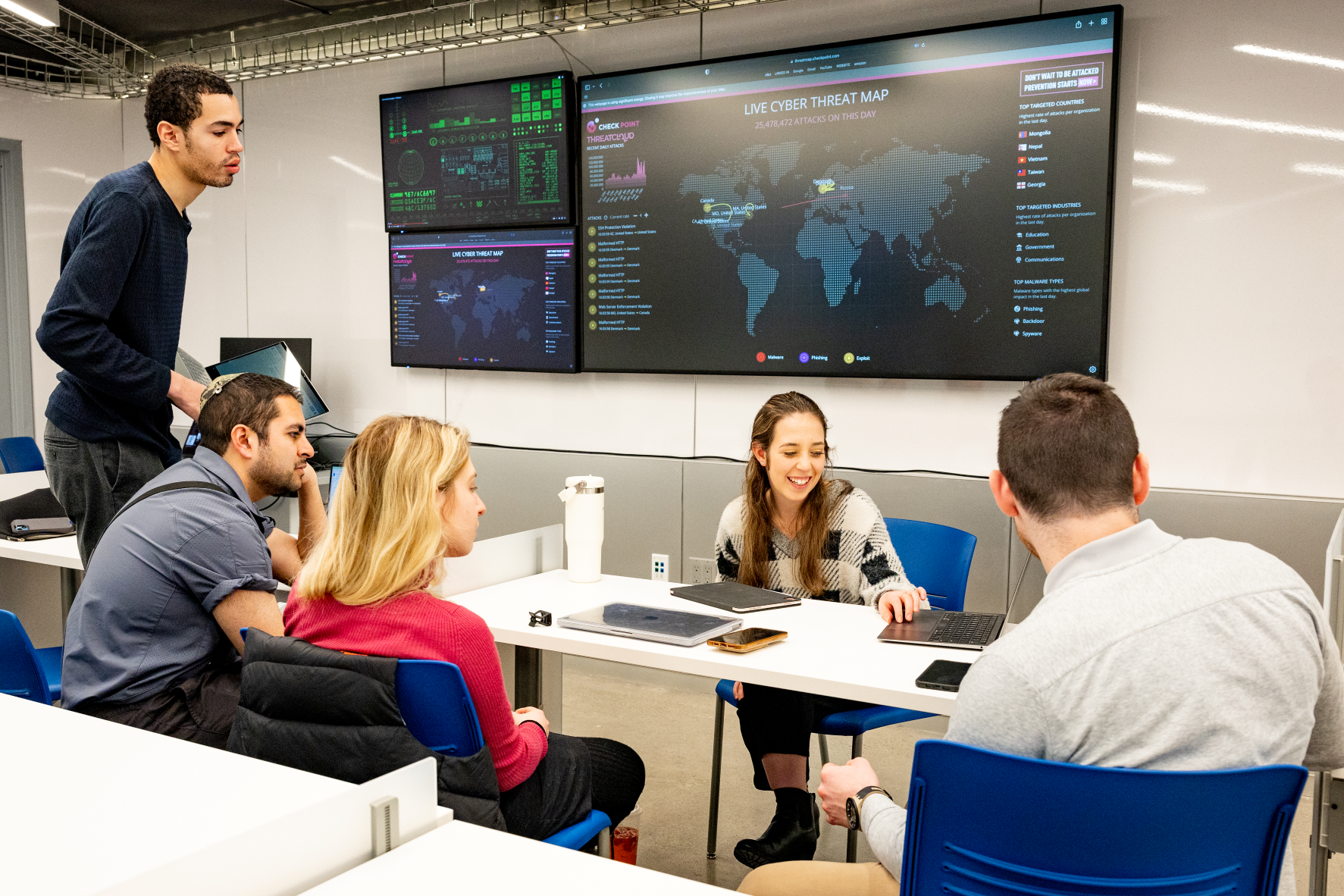 "At the Katz School, our mission is to do more than just graduate students in the field of cybersecurity," said Paul Russo, University Vice Provost and Dean of the Katz School of Science and Health. "Our mission is to meet the needs of industry for next-gen cybersecurity experts who will make the nation and the world safer. The SOC provides the hands-on experience that CISOs in every industry are seeking, and very few programs provide this level of real-world training."
Responding to the urgent need for next-gen cybersecurity experts who will make the nation and the world safer, YU's Katz School of Science and Health opened a new Security Operations Center (SOC) to provide an unprecedented level of hands-on, real-world training and cyber-defense skills.
The first of its kind in New York City, Yeshiva University's new SOC and cyber range—a high-fidelity clone of a real-life network system under a simulated cyber-attack—immerse students in real-world scenarios and simulations, cutting-edge tools and techniques, and live-fire attacks—so they can master the cyber defense skills needed to beat the best hackers.
Located on the Katz school's Midtown Manhattan campus, the new cyber center trains students to counter multiple attack vectors, manage a virtual enterprise network and work with commercial grade security tools. Students and researchers in the school's cybersecurity, computer science, AI and data analytics programs gain real-world experience with next-gen technologies, hyper-realistic and immersive simulations, enterprise-grade networks, and advanced security tools.
Through a partnership with Cyberbit, the global leading attack readiness platform, Katz School students will have access to Cyberbit's advanced cybersecurity platform in the SOC, which will help them hone their cyber defense skills. Online cybersecurity students have simultaneous remote access to the labs, where they will be able to collaborate with their New York City peers in real-time.
"We're one of the first schools to launch a Security Operations Center, the nerve center of any security organization," said Sivan Tehila, Director of the Katz School's M.S. in Cybersecurity. "The SOC allows us to simulate a real-world cyber-attack and by that, our students are getting the opportunity to experience what it means to be a security analyst. As a hiring manager, it's a huge advantage to hire someone who understands what it means to work in a SOC. The fact that our students are getting this exposure is a real competitive advantage in this market."
With its M.S. in Cybersecurity–including both an on-campus and online program ranked #2 in the nation–the Katz School is preparing the cybersecurity leaders of tomorrow. By providing hands-on experience in addition to traditional cybersecurity education, students are exposed to the most relevant technology and networks, hone critical soft skills like teamwork and communication and will begin their careers already experienced in mitigating attacks. This demonstrable expertise is something Katz graduates can put on their resumes. Training the next generation of experts is particularly important in cybersecurity, a job field that is vital to today's economy and is projected to grow by 35% over the next decade.
"The Katz School's innovative vision will deliver workforce-ready graduates prepared to excel in their careers," said Adi Dar, CEO of Cyberbit. "I am thrilled to see the Katz School innovating and leading this approach in the State of New York."
Katz School students learn the latest authoritative strategies for assessing and mitigating cyber threats, best practices for designing secure systems architecture, digital forensics methods, and much more. Throughout the program, students receive industry mentorship, along with the opportunity to showcase and publish research from their individual capstone projects at Katz School's annual Symposium on Science, Technology and Health.
About the Katz School of Science and Health
At Katz, they are research scientists, tech builders and patient-centered clinicians working on problems that matter. They concentrate on industries that are central to the modern economy: Artificial Intelligence, Biotechnology, Cybersecurity, Data Analytics and Digital Media, as well as Occupational Therapy, Physician Assistant Studies, and Speech-Language Pathology. In the lab, classroom, and clinic, they are committed to making the world smarter, safer, and healthier.
Media Contact: Liz Ammirato – [email protected]
Media Contact
Company Name: CATHY CALLEGARI PUBLIC RELATIONS INC
Contact Person: Liz Ammirato
Email: Send Email
Phone: 914-299-3882
Address:159 Madison Avenue, Apt. 5J
City: New York
State: NY
Country: United States
Website: www.callprinc.com