Ghinko: The Rising Star of Fineline and Microrealism Tattoo Art in New York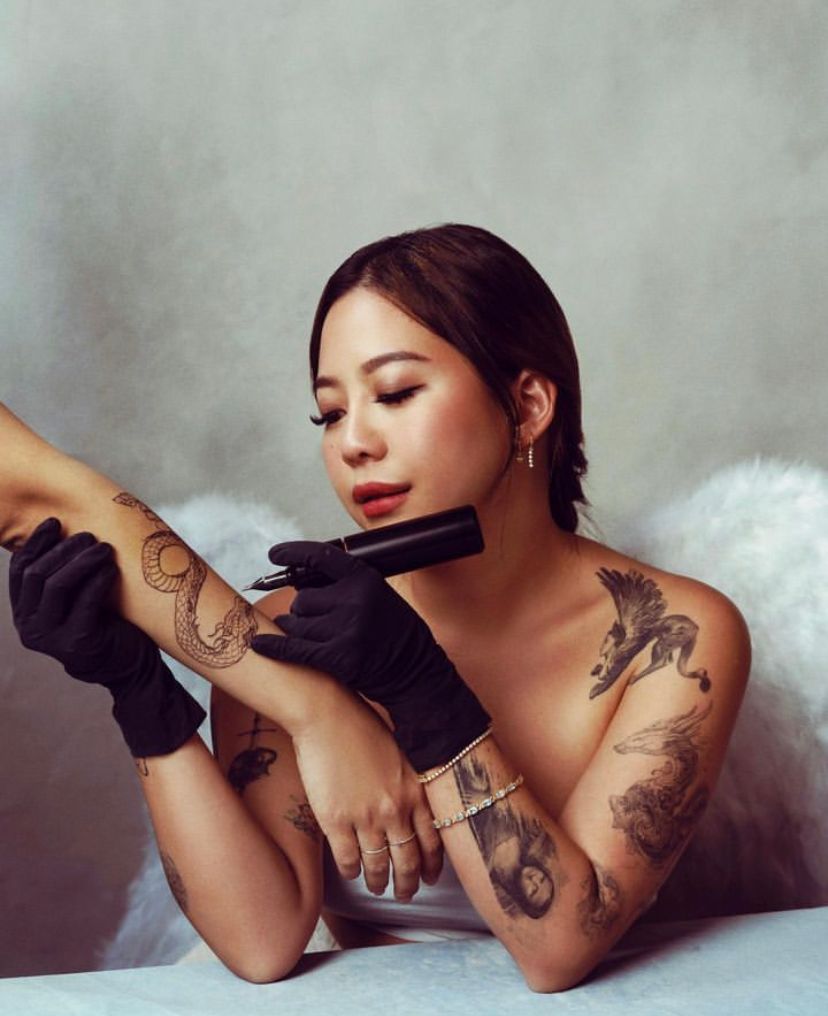 Ghinko is a tattoo artist of rare talent and artistic vision. Born and raised in New York City, Ghinko's style is a unique blend of illustrative fine line and micro realism, which imbues his tattoos with a sense of delicacy and precision.
She is a master of customization, and his tattoos are tailored to her client's personal stories and tastes, which makes them truly unique and meaningful. Ghinko's journey as a tattoo artist began in 2016 when she embarked on an apprenticeship in Brooklyn. She honed her skills and developed her craft, and in 2018, she made her way to becoming a tattoo artist in a bustling shop in the West Village. Her talent and hard work were quickly recognized, and she quickly established herself as one of the most sought-after tattoo artists in the city.
But her ambition and drive didn't stop there. She made it a point to travel the world and guest spots in all sorts of countries, eager to learn from other tattoo artists and expand his horizons. She has guest-spotted in over 15 different shops worldwide, and her reputation as a tattoo artist of exceptional skill and creativity has preceded her. Her travels have also given her a unique perspective on the tattoo industry and the various styles and techniques that exist around the world.
One of Ghinko's defining characteristics is her dedication to changing the stigma of the "uncaring" tattoo artist towards "tattoo therapy". She understands the deep personal significance that tattoos hold for many people, and she approaches each client with empathy, understanding, and a genuine desire to create a tattoo that will be meaningful and therapeutic for them. Her tattoos are not just a form of self-expression, but also a form of self-care and healing.
Her work has not gone unnoticed, and she has been recognized by some of the leading names in the tattoo industry. She made it to Bang Bang within two years of her professional career, and this is a testament to her skill and reputation as a tattoo artist. She is also selective in her approach to tattoo appointments, and only accepts clients on a case-by-case basis, ensuring that she can give every one of them the time and attention they deserve.
Ghinko's tattoos are truly one-of-a-kind, and her illustrative Fineline and micro realism techniques are what sets him apart from other tattoo artists. Her attention to detail and ability to create fine lines and delicate shading give her tattoos a sense of realism and depth that is truly mesmerizing. Her micro realism tattoos are so intricate and precise that they look almost like photographs.
Moreover, Her tattoos are not only visually stunning but also symbolic and meaningful. She takes the time to get to know her clients, to understand their personal stories and what they want to express through their tattoos. Her tattoos often tell a story, be it a personal one, or one that is inspired by the client's favorite book, movie, or song. The result is a tattoo that is not only beautiful to look at but also holds a special significance for the person wearing it.
"Tell me your story" – Ghinko
Media Contact
Company Name: HYPE PR
Email: Send Email
Country: United States
Website: www.hypekoolar.com