My Neighbor Alice makes history on NFTb by becoming the first native token on the platform
My Neighbor Alice native token, ALICE, will soon be available to trade with other currencies on the Binance-backed Web3 Gaming platform, NFTb.
STOCKHOLM – MARCH 29th, 2023 – My Neighbor Alice, the leading blockchain gaming and NFT company, announces that its native token, ALICE, will be listed on the NFTb, a Binance-backed Web3 Gaming platform. Listing on NFTb is a major milestone for My Neighbor Alice as it continues to pioneer the future of blockchain gaming.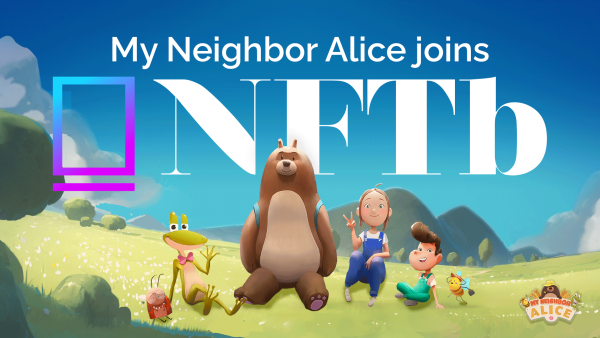 My Neighbor Alice's native token, ALICE, will soon be available to trade with other currencies on NFTb. The team is excited to provide its community with an innovative and seamless way to interact with its ecosystem by being the first native token listed on the platform.
The collaboration with the NFTb will strengthen My Neighbor Alice's mission to provide users with a safe, transparent, and accessible marketplace for trading and exchanging ALICE tokens. The Web3 Gaming Research HUB incubated by NFTb, Yoda Labs, has released an exclusive interview with My Neighbor Alice, highlighting key insights into the game's future.
Listing on NFTb allows the community members to enjoy these additional benefits:
Enhanced liquidity: ALICE token holders will now have the opportunity to diversify their portfolios by trading with other currencies on the NFTb platform.

Increased accessibility: New and existing users can easily acquire ALICE tokens through NFTb, promoting new members to join the My Neighbor Alice community.

Strengthened ecosystem: The integration of ALICE tokens on NFTb reinforces the robustness of the My Neighbor Alice ecosystem, fueling growth and fostering greater innovation.
As My Neighbor Alice embarks on this exciting new chapter, the team would like to thank the community for its unwavering support. My Neighbor Alice will share more updates and developments on NFTb listings on the following social media platforms.
Discord: https://discord.gg/myneighboralice
Telegram: https://t.me/MyNeighborAlice
Telegram Announcement: https://t.me/AliceAnnouncements
Twitter: https://twitter.com/MyNeighborAlice
Linkedin: https://www.linkedin.com/company/my-neighbor-alice/
About My Neighbor Alice
My Neighbor Alice is a social online multiplayer builder game built on the Chromia blockchain platform. The project is designed to promote an end-to-end blockchain game ecosystem that allows for an easy transactions within the NFT and gaming community. The technology behind My Neighbor Alice is based on a staking and renting system. The system is being developed and will debut next year, allowing users to rent their NFTs for even more significant earnings potential. Ultimately sets them apart from other play-to-earn games. My Neighbor Alice aims to become a dominant entity in the blockchain gaming space and seeks to maintain and develop a vibrant community for diverse players.
Media Contact
Company Name: My Neighbor Alice
Contact Person: Fati Hakim
Email: Send Email
City: Stockholm
Country: Sweden
Website: https://www.myneighboralice.com/