"The Absolute Path to Success: A Great Mentor Can Take You to the Next Level" by Tunde Morrow
The Absolute Path to Success: A Great Mentor Can Take You to the Next Level is a guide meant to stoke your inner fire and confidence by highlighting the benefits of mentorship. Right from the beginning, Tunde Morrow identifies the obstacles that we face as individuals and how mentoring can be a critical part of overcoming those obstacles.
"Mentoring has played such a big role in my life and I wanted others to enjoy the benefits that it can bring. But more than that, I want them to understand what is involved in the mentoring process and how you can get the most out of it," said Tunde.
Her personal experiences are woven throughout the book, demonstrating how mentorship does not have to be limited to just your professional life, but can be used to make significant changes in your personal life as well. Regardless of what you are hoping to achieve, The Absolute Path to Success: A Great Mentor Can Take You to the Next Level provides practical tips and steps to understanding how mentoring can play a role in what you want out of your life.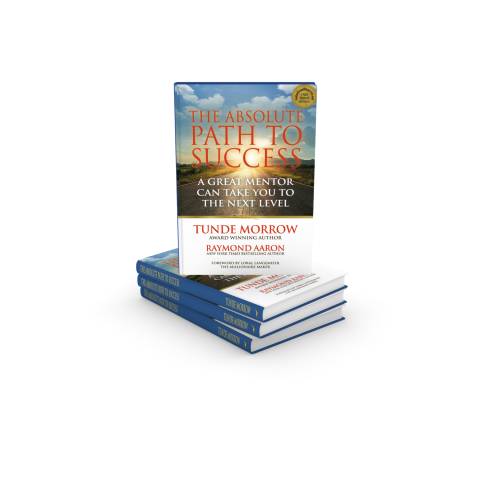 "Many of us have a burning desire to be successful, but not necessarily a clear path to get there. I know that desire for success can motivate us to take chances, but if we are not sure about what we are trying to achieve, then we could be wasting our time and energy without making any progress or achieving the results we had hoped and planned for," said Tunde. "That burning desire is not enough. Mentoring can be the way to channel your time and resources effectively to achieve your dreams and goals."
Mentoring, as Tunde points out, can include identifying potential obstacles and distractions that can be keeping you from fulfilling your goals and dreams. She also dives into how our mental outlook can play a part in our success or failures. Tunde also dives into our beliefs and how they fuel our decisions and actions. With all the different subjects Tunde explores, mentoring comes to life in a unique way that can positively impact your life.
Not only does she cover the benefits of mentoring, Tunde shows you how to gain the most from any mentoring situation, including how to prepare before a meeting with your mentor and how to find the right mentor. She also shares how different mentors can come into play throughout your life.
Currently, Tunde serves as a mentor, award-winning author, and entrepreneur. With a unique gift and perspective on people's lives and what defines success, she is insightful and able to connect with people easily. Tunde was born and raised in Hungary before moving to the United States. In 1990, she moved to Los Angeles, where she currently resides with her family.
To contact Tunde Morrow for interviews or to learn more about opportunities to work with her as a mentor, please visit her website at www.TheAbsolutePathtoSuccess.com or buy her book on Amazon.
Media Contact
Contact Person: Tunde Morrow
Email: Send Email
Country: United States
Website: http://www.theabsolutepathtosuccess.com/